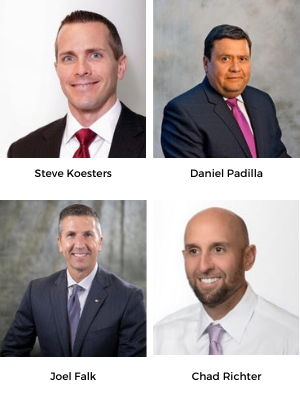 OMAHA, Neb. -- The Business Ethics Alliance is honored to have four distinguished professionals from the Omaha metro area join its Governing Board, also known as the Board of Directors. The Governing Board  currently has 14 members who manage the business and programs of the organization. The four newest members of the Business Ethics Alliance Governing Board are:
Steve Koesters | Treasurer
Steve currently serves as the Chief Executive Officer (CEO) of Fusion Medical Staffing. He has a strong background in the finance industry and has  previously held leadership roles with a number of companies across the Midwest. Steve pursued his higher education at Bellevue University and the University of Nebraska at Omaha, specializing in the areas of business, accounting, and economics. He also has a commitment to volunteer leadership, previously serving on governing boards for two nonprofits based out of Kansas City, Missouri.
Daniel Padilla | Trustee
Daniel is the executive director of Lending Link and has worked in the financial services industry for over 20 years. He has been involved with developing lending strategies for unbanked and underbanked markets for several years. Daniel is passionate about his civic involvement, and he has served on many organizational boards and task forces dedicated to improving the financial well-being of the Omaha community. Daniel speaks fluent Spanish and graduated with a degree in business administration from Universidad Mariano Galvez in Guatemala City.
Joel Falk | Trustee
Joel is the president of UMB Bank and specializes in Commercial Banking and Investment Management. Other notable companies he has worked for include US Bank, Union Pacific Railroad, and Bank of the West. Joel received his Bachelor's in Economics and Finance from the University of Nebraska at Kearney and his Master's in Business from the University of Nebraska at Omaha. He has a deep commitment to volunteerism and has served on a number of nonprofit boards in Omaha, including United Way of the Midlands.
Chad Richter | Trustee
Chad currently serves as the managing partner of Jackson Lewis and has  extensive experience in the legal industry. He specializes in preventive counseling and training, traditional labor law, and workplace litigation. Chad is a frequent speaker to local and national organizations on a variety of employment and labor-related topics. He serves on a number of nonprofit boards throughout the Omaha area. Most recently, Chad received the honor of being a Recommended Attorney by Legal 500 USA.