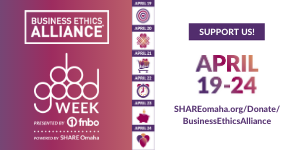 OMAHA, Neb. -- The Business Ethics Alliance will be participating in the new and upcoming Do Good Week, hosted by SHAREOmaha and First National Bank. This innovative event runs April 19-24 and is dedicated to meeting a wider variety of needs in the Omaha metro area.
Do Good Week replaces the Omaha Gives! - Pottawattamie Gives! day of online giving across both communities, which are no longer being held. Each day features a different day theme and way to support nonprofits in the community.
Monday, April 19: Mission Monday
Tuesday, April 20: New Donor Tuesday
Wednesday, April 21: Wishlist Wednesday
Thursday, April 22: Volun-Thursday
Friday, April 23: Fund It Friday
Saturday, April 24: Celebration Saturday
Individuals can donate to the Business Ethics Alliance for the duration of Do Good Week, as well as throughout the year, by visiting https://shareomaha.org/donate/business-ethics-alliance. The Alliance needs your support to #HelpOmahaDoGoodWithEthics.
About the Business Ethics Alliance
The mission of the Business Ethics Alliance is to build leadership, strengthen organizations, and elevate Greater Omaha through positive, practical business education. The Alliance was legally established in 2008 as a standalone, not-for-profit entity. The Alliance has three founding partners: the Heider College of  Business, Greater Omaha Chamber of Commerce, and the BBB of the Midlands. Additionally, the Alliance is made up of Trustees around Omaha who act as a guild of business leaders who are ambassadors, supporters, and advisors of the Alliance's mission.
Everything the Alliance does promotes an environment where the discussion and practice of ethics is encouraged and expected in the local community. Because business leaders trust the Alliance, it is able to create the forums to have conversations that no one else in the community can have. The Alliance's brand of ethics is impartial, research-based, and respectful. Always.