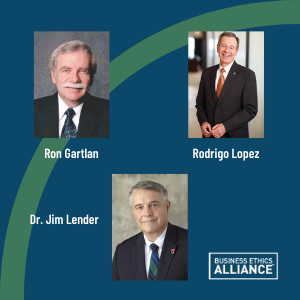 OMAHA, Neb. -- Three Trustees of the Business Ethics Alliance will join the ranks of other prestigious business leaders in the Omaha metro area. Ron Gartlan, Owner, President, and CEO of Godfather's Pizza; Rodrigo Lopez, Chairman of Amerisphere Companies; and Dr. Jim Linder, CEO of Nebraska Medicine, will be formally inducted into the Omaha Business Hall of Fame on August 25.
Mr. Gartlan became CEO of Godfather's Pizza in 1996 after taking over for former CEO Herman Cain. Under his leadership, Godfather's developed the express pizza line, which moved the company into convenience stores and other quick locations. Godfather's has seen increased expansion in its number of locations over the past 25 years, including parts of the Southwest, the Southeast, and  New England.
Since 2018, Mr. Lopez has served as Chairman of Amerisphere Companies, a  lending company engaged in originating, underwriting, closing, and servicing multifamily mortgage loans throughout the United States. Mr. Lopez and his wife Mary are strong philanthropists in the Omaha community, supporting various causes such as Habitat for Humanity, the United Way, Children's Hospital, and the University of Nebraska-Omaha. He is also a former member of the Board of Directors for the Business Ethics Alliance.
Dr.  Linder became CEO of Nebraska Medicine in 2018. He is also a professor of  pathology for the University of Nebraska Medical Center. Dr. Linder joined the UNMC faculty in 1983 after earning his medical degree from UNMC in Omaha, Nebraska, and subsequent training in pathology at Duke University. He and his wife Karen have earned numerous awards for their support of entrepreneurs and investing in dozens of new companies.
All three men will be inducted with three other business leaders, including one posthumously, and all honorees will be featured in a permanent exhibit at the Durham Museum. The induction of this year's class will bring to 172 the total number of honorees in the Omaha Business Hall of Fame.
# # #