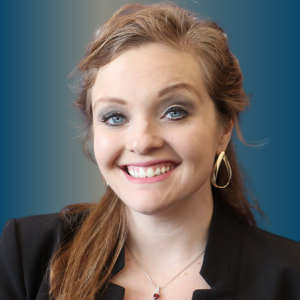 OMAHA, Neb. -- In February, the Business Ethics Alliance was pleased to welcome Charli Hathcox as one of the newest members of its team. Charli joins the Alliance as its new Marketing & Communications Manager and has over a decade of experience in the communications industry.
She began her professional career working in television journalism and had the pleasure of working in five different markets across the country, including Omaha. During her time in television, Charli served as a reporter, a producer, a senior producer, and an executive producer.
In 2017, Charli transitioned to her nonprofit career, joining Heartland Family Service as its communications manager. Her areas of expertise include crisis communication, public speaking, social media, and developing organizational marketing strategies. Charli received her Bachelor's degree in television journalism with a minor in french from West Virginia University. Most recently, she earned a Master's degree with distinction in business administration from Bellevue University.
Charli has a deep commitment to volunteerism and has donated her time to a number of organizations in multiple cities. She loves the mission of nonprofits and is especially passionate about storytelling and helping others in the community find their voices.
About the Business Ethics Alliance
The mission of the Business Ethics Alliance is to build leadership, strengthen organizations, and elevate Greater Omaha through positive, practical business education. The Alliance was legally established in 2008 as a standalone, not-for-profit entity. The Alliance has three founding partners: the Heider College of Business, Greater Omaha Chamber of Commerce, and the BBB of the Midlands. Additionally, the Alliance is made up of Trustees around Omaha who act as a guild of business leaders who are ambassadors, supporters, and advisors of the Alliance's mission.
Everything the Alliance does promotes an environment where the discussion and practice of ethics is  encouraged and expected in the local community. Because business leaders trust the Alliance, it is able to create the forums to have conversations that no one else in the community can have. The Alliance's brand of ethics is impartial, research-based, and respectful. Always.