Michael Robinson, M.S.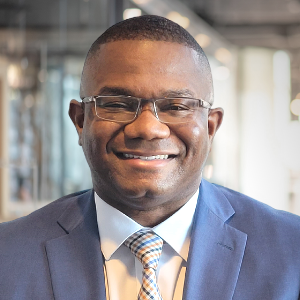 What was your background prior to joining the Alliance?
I joined the Business Ethics Alliance in November of 2020 with a unique background in non-profits, philanthropy, affordable housing, and community work. I have extensive experience in strategic planning, budgeting and program development.
Previously, as Executive Director at Notre Dame Housing, I was responsible for over $20 million in assets providing affordable Tax-Credit and HUD 202 service-enriched senior housing and services. During my time there, the organization was named a National Quality Community four years in a row.
I am very active in the Omaha community, serving on several Boards of Directors, including One World Community Health Center, Better Business Bureau Advisory Board, and The University of Nebraska at Omaha College of Urban Studies Advisory Board. I am also an Alumni of Leadership Omaha Class 29, Midlands Business Journal 40 under 40, Heartland Blueprint Class 15, Indiana School of Fundraising Graduate, Non-Profit Executive Institute Class 4, and FBI Citizens Academy graduate.
I received my bachelor's degree from the University of Nebraska at Omaha and my master's degree in Urban Studies, Community & Economic Development from the University of Nebraska.
I come from a background in family housing and financial programs at Notre Dame Housing and Family Housing Advisory Services & Omaha 100, Inc., in addition to formerly serving as the executive director and CEO of Christ Child Society of Omaha. I earned my bachelor's degree in sociology from the University of Nebraska at Omaha and my master's degree in urban studies and community & Economic development at the University of Nebraska-Lincoln.
What is your role at the Business Ethics Alliance?
I serve as the Executive Director & CEO for the Business Ethics Alliance. In my role, I am accountable for organizational strategy, leadership & planning, governing board accountability and communications, relationship building, administration and human resource development and budgeting. 
My favorite thing about ethics is…
We are all responsible for making ethical choices and applying ethics in all areas of our lives. Ethics has a major influence on the decisions we make and the actions that we take, which includes the ability to say "no" to bad priorities and unethical people. 
The best piece of advice I've ever been given is…
When you know better, you do better.
When I was a kid, I was 100% confident I was going to be a police officer or U.S. Marshall when I grew up.
My mother is a retired law enforcement officer and one of the most ethical individuals that I know.
What motivates you to start each day?
Making my bed. You have to start the day with a sense of accomplishment or a "win" that creates a small sense of pride and a productive state of mind.
A unique or interesting thing about me that most people may not know is…
I enjoy taking action-sports photos and doing videography.